HARDENED & TEMPERED STEEL STRIPS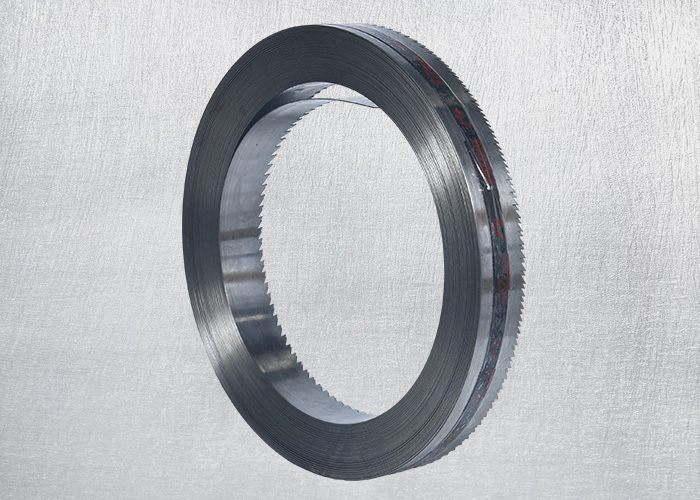 ZENHARDR Walzen make Hardened & Tempered Medium & High Carbon Steel Strips, finds wide applications in special industrial uses. ZENHARDR has excellentspring properties, uniform hardness and texture, ZENHARDR has precision blanking ability and rationalizes further processing by eliminating post heat treatment & distortion and thereby increases productivity.
Walzen Strips Pvt. Ltd. manufactures ZENHARDR, Hardened & Tempered Steel Strips, conforming to National and International Standards viz, IS: 2507, DIN 17222. BS: 1449, ASTM A-682. High Carbon Low Alloy hardened and tempered steel strips is produced in-house from cold rolled steel strips and heat-treated in continuous line to develop high hardness, toughness to achieve required spring properties.
Steps involved for manufacture of Hardened & Tempered Steel strips:
Austenitizing of Medium & High Carbon and Low Alloy steels is carried out in 12 M long gas fired furnace with automatic controls and heat resistant S.S. Muffle to provide inert cover to the strips. Quenchingl in oil produces very hard martensite, which is then tempered down in a 7 M long electrically heated tempering furnace. Variable speed DC drive with UPS back-up ensures uninterrupted processing even during power failure.
Hardened and tempered strips are also available in rounded edges for special applications and for high fatigue life. This is done by machining of edges with profiled carbide tips.
Hardened and tempered strips are available in bright polished surface by grinding the surfaces with waterproof coated abrasive belts in strip grinding machine with coolant flow.
ZENHARD : Chemical composition & Sizes
Specification
Grade
%C
%Mn
% P (max.)
% S(max)
% Si (max)
Size range
Medium & High Carbon
C55
0.50-0.60
0.60-0.90
0.035
0.025
0.35

Width: 6.0-325mm

Thickness: 0.40-3.00mm

C62
0.60-0.67
0.60-0.90
0.035
0.025
0.35
C80
0.75-0.85
0.60-0.90
0.035
0.025
0.35
Low Alloy steels against specific enquiry
Non-standard sizes against specific enquiry
Minimum decarburisation

Uniform Hardness and Texture
High degree of toughness
Excellent Spring Properties
Precision blanking ability
Minimum edge camber
Flatness across width
No curling
Supply Condition:
Hardened and Tempered
Furnace Blue-Grey or Bright Ground Finish
Available in rounded edges
On Width & Thickness as per BIS/International Standards.
| Thickness | Hardness |
| --- | --- |
| Upto 0.40mm | 525 – 600 Hv |
| Above 0.40 mm upto 0.80 mm | 475 – 550 Hv |
| Above 0.80mm | 425 – 500 Hv |
Non-standard hardness may be supplied against specific enquiry.
Typical Application and Uses:
Wood cutting Band saws
Hand saws
Cross-cut saws
Pit saws
Paint Scrappers
Plastering Trowels
Leather
Plastic
Textile
Sugar Cane
Roller Shutter Spring
Springs for electronics toys
Clutch plates
Brake components
Horn diaphragms
Spring & Spring Washers
Textile and Jute mill accessories
Compressor valve plates
Forge Hammer Belts
Special Note:​
Through integration of production facilities,
Walzen can offer a complete range of Hardened & Tempered Steel Strips according to International Standard. Purchaser may furnish the following information to meet exact requirement.
Description of the product.

Number of relevant International Standard.

Nominal thickness and width in millimeters.

Hardness

Edge requirement.

Required tolerance

On thickness

On width

On edge camber

Type of coil and coil internal diameter.

Special requirement, if any.